Acer Swift 3 SF315-41 Review: Should You Buy The Acer Swift Laptop?
WiseCatcher is supported by its readers and we earn a commission if you buy through our affiliate links at no extra cost. Read the full affiliate disclosure in our privacy policy.
WiseCatcher is supported by its readers. You can find full affiliate disclosure in our privacy policy.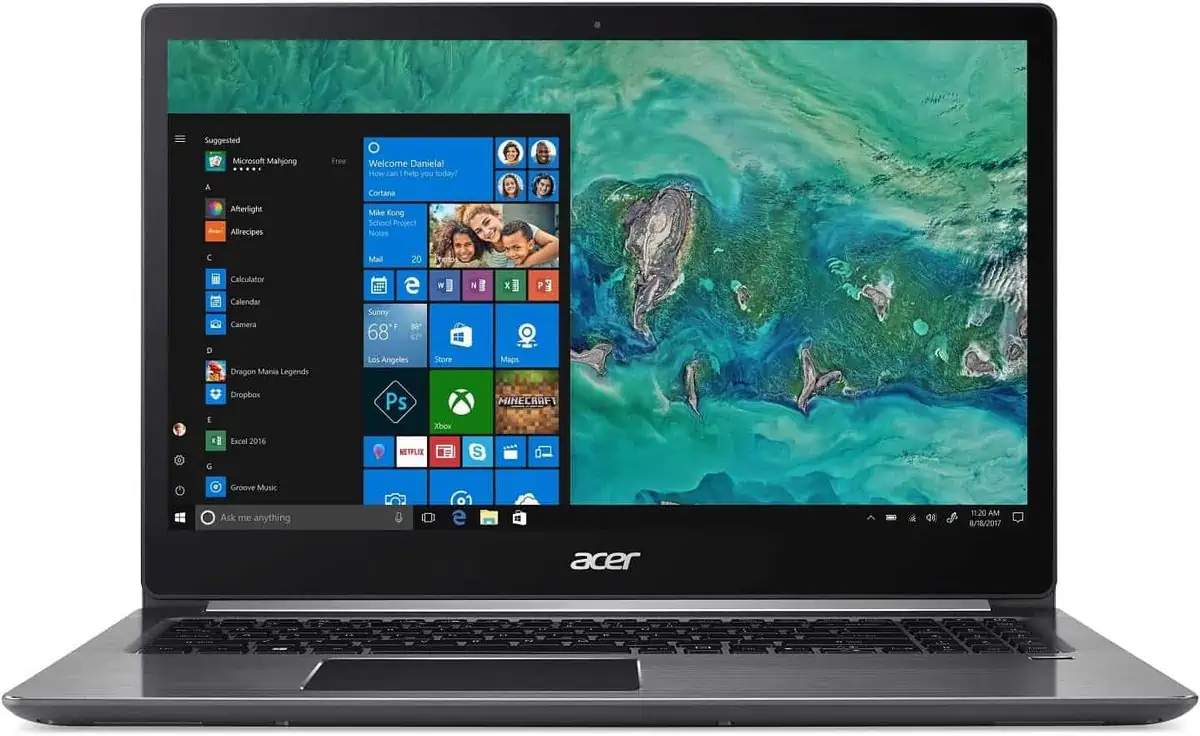 If you're searching for a new 15-inch laptop, then the Acer Swift 3 SF315-41 is a good laptop for everything you need from a computer.
Acer Swift 3 has a lovely Full HD 1920 x 1080 IPS display, and the screen's anti-glare coating keeps it shiny and vibrant for viewing movies and TV shows.
We've seen some pretty incredible laptops over the past few years, but sometimes you don't need to spend much money to get a great and powerful machine.
The Acer Swift 3 SF315 is an all-rounder that's affordable even for the budget conscious, a laptop that offers excellent value.
This review will provide a comprehensive look at the Acer Swift 3 SF315-41, which includes the AMD Ryzen 5 2500U processor, 8 GB RAM, and 256 GB storage.
If you're an Acer laptop lover, you should also check our review of Acer Aspire 7 A717 72G.
Before moving ahead, check out Acer Swift 3 specs to know more about its hardware and software.
Specifications of Acer Swift 3 SF315 41
| SPECS | SUMMARY |
| --- | --- |
| Display Size | 15.6 Inches |
| Operating System | Windows 10 Home |
| Processor | AMD Ryzen 5 2500U ‎ |
| RAM | 8 GB DDR4 |
| Hard Drive | ‎256 GB |
| Graphics Card | ‎Intel HD Graphics 620 |
| USB 3.0 Ports | ‎3 |
| USB 2.0 Ports | 1 |
| Average Battery Life (in hours) | 8 Hours |
Design and Build Quality
The Acer Swift 3 SF315-41 has an all-aluminum chassis and weighs 3.64 pounds. It's also pretty compact at 0.74 inches thick when measured at its widest point.
The keyboard features full-size keys and offers great typing comfort thanks to its soft touch finish on top of each keycap and excellent feedback from its scissor mechanism underneath each key.
The trackpad below is also smooth and accurate. However, it could be more sensitive when gestures such as two-finger scrolling or pinch-zooming in apps like Chrome or Firefox browser.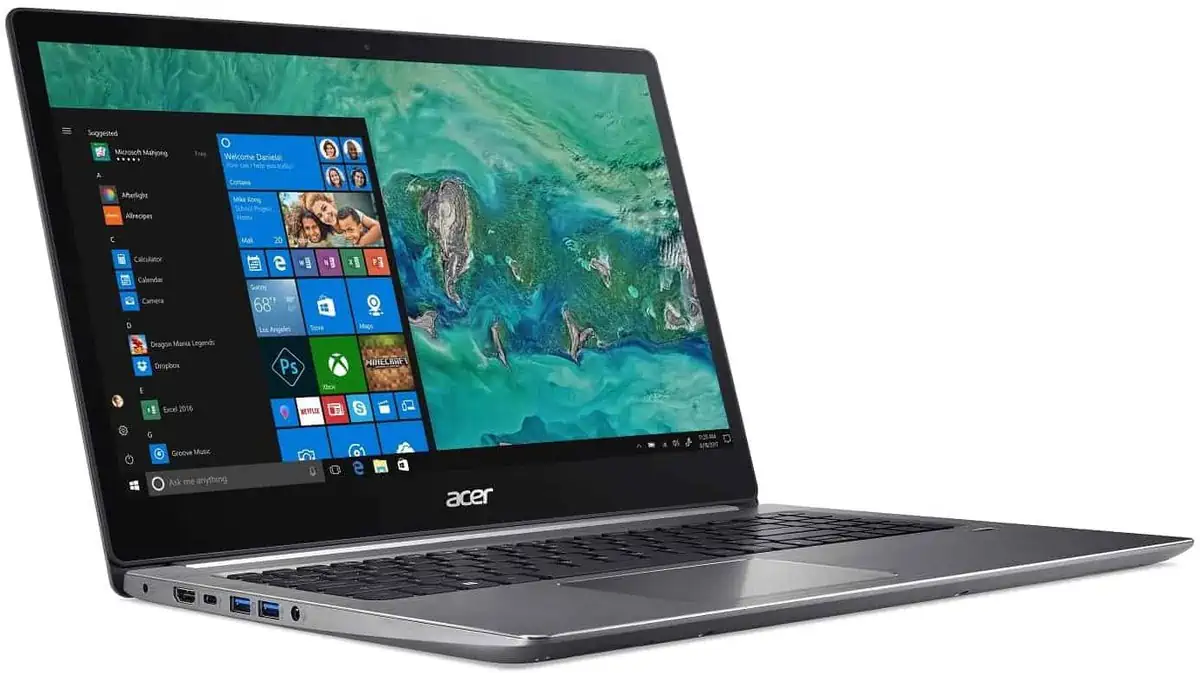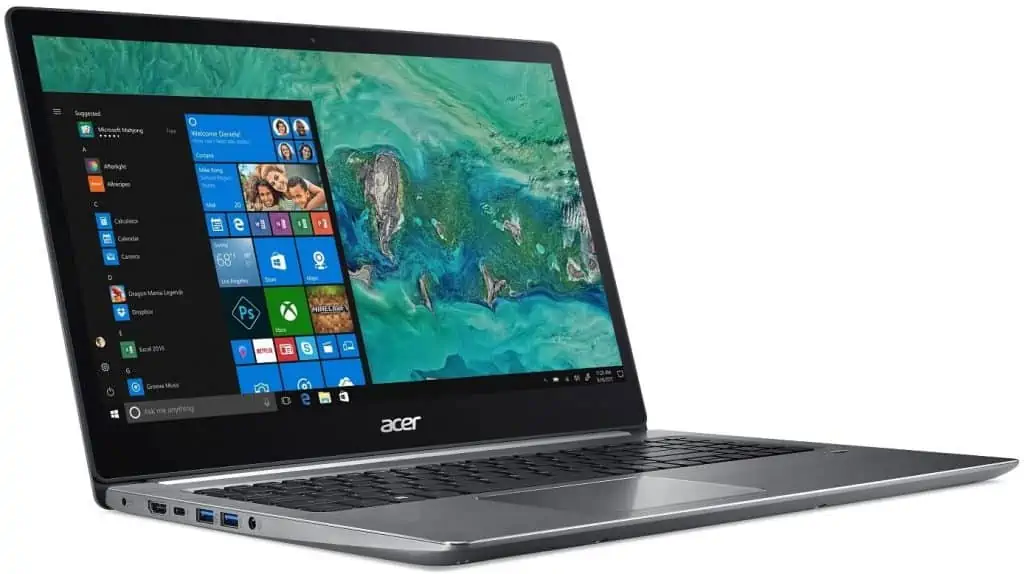 Display
The Acer Swift 3 SF315-41 laptop has a 15.6-inch Full HD Widescreen IPS LED-backlit Display with Corning Gorilla Glass, 1920 x 1080 resolution, and a 16:9 aspect ratio.
The 15.6-inch display is larger than most of the competition. The average screen size for ultraportables was 14 inches in 2019.
However, this extra space means you won't have to squint your eyes as you would with smaller devices if you're reading text or watching movies during long flights or train rides.
The screen type is IPS, which means that viewing angles are wide, and colors stay accurate even when looking from different sides (though there is some color distortion at extreme angles).
The resolution on this model is 1920 x 1080 pixels, which works out to 118 dpi if you measure by Windows 10's zoomed setting (it's 119 DPI).
This can be changed under Settings > System > Display > Scale & layout options tab > Adjust for best fit so that your icons don't appear tiny on large screens as mine now after I just installed Windows 10 today.
Keyboard and Trackpad
The Swift 3 SF315-41's keyboard is comfortable to use, with a hard typing experience.
The keys are well-defined and responsive, and there's enough travel distance that it feels like typing on a laptop or desktop keyboard rather than one of those cheap rubber membranes found on many portable devices these days.
The trackpad is smooth and accurate, making it easy to navigate around Windows 10 without reaching for the touch screen display too often.
It's also large enough that your pointer will easily get lost in translation when you're browsing the web or working on documents: you won't have any trouble clicking things accurately at a distance or tracking down smaller targets with relative ease.
Disclosure: WiseCatcher.com is a participant in the Amazon Associates Program, and when you buy through our affiliate links, we get a small commission. You can read our affiliate disclosure in our privacy policy.
Battery Life and Performance
The Acer Swift 3 SF315-41 is powered by AMD Ryzen 5 2500U Quad-Core Processor 2.0GHz with Precision Boost up to 3.6GHz (Up to 4MB L3 Cache), along with 8GB DDR4 SDRAM (two slots) and 256 GB SSD. It's a powerful laptop compared to other options in the same range.
The Swift 3 will work well for occasional or light PC gamers who don't have high-end requirements like playing AAA games at high settings or running multiple applications simultaneously without slowing down the system.
It comes with an Intel HD 620 Graphics card which is fast enough for casual gaming on medium settings but needs to be more capable for intense gaming sessions when you're playing your favorite FPS titles graphically demanding games.
Acer's Swift 3 SF315-41 has a 4-cell Li-Ion Battery (3220 mAh) with up to 8 hours of Battery Life, 4.63 lbs, which is slightly more than average. Considering its size and weight, we expected the laptop to last a bit longer than this.
However, it is a budget notebook, and you get what you pay for: decent performance at an affordable price.
The laptop comes with 1 – USB 3.1 (Type-C) port (Gen 1 up to 5 Gbps), 2 – USB 3.0 ports (one with power-off charging), 1 – USB 2.0 port, and 1 – HDMI Port.
You can also access an SD card reader and WiFi connectivity options such as Bluetooth 4.1 HD Webcam (1280 x 720) supporting Super High Dynamic Range (SHDR).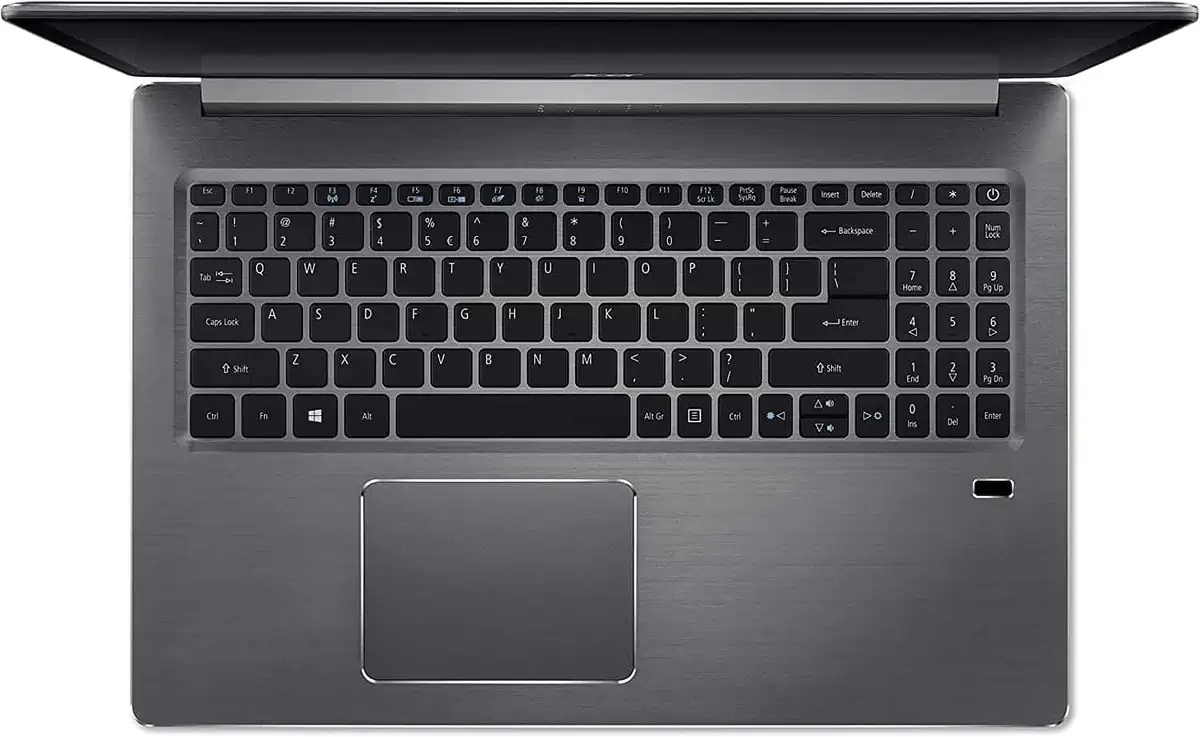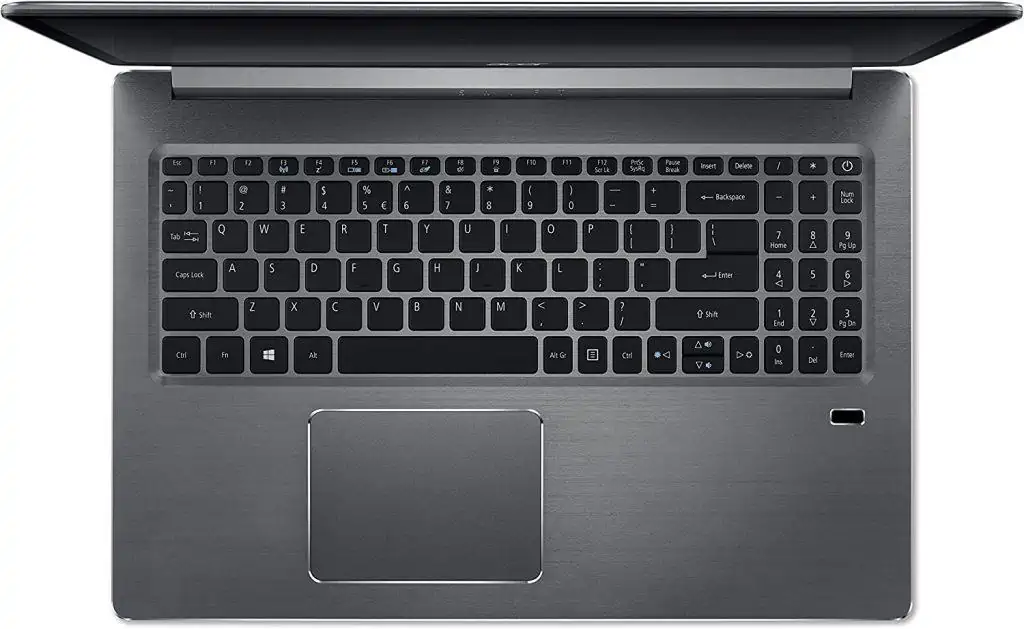 Price and Availability
The Swift 3 SF315-41 is available for sale online at Amazon.com, where it retails for $899. It's available in a Steel Gray color. The item is Acer Swift 3, 15.6″ with AMD Ryzen 5 2500U processor.
Pros & Cons of Acer Swift 3 SF315-41
Our Verdict on Acer Swift 3 SF315-41
Acer Swift 3 SF315-41 is a good laptop for everyday use. You can use it for work, play, school, and more. It's also ideal for professional or gaming usage and multimedia like watching movies and listening to music.
This laptop has enough ports to connect multiple devices at the same time. The storage is enough for you to store your files or media collection.
The battery life may only last some days long, but it still offers plenty of juice, so you don't have to charge it after every half hour or so when using this laptop away from home or the office where there isn't an outlet handy.
Frequently Asked Questions (FAQs)
Now it's time to look at some essential FAQs related to Acer Swift 3 SF315 laptop.
Is Acer Swift 3 a good buy?
Acer Swift 3 has an attractive design, a bright and colorful display, and solid performance. There are better choices for gaming or heavy multitasking, but it's a good everyday laptop for students, professionals, and home users.
u003cbru003eCan I upgrade SSD on Acer Swift 3?
Yes, you can upgrade SSD on Acer Swift 3. The Acer Swift 3 has a two M.2 slot that supports NVMe SSDs. If you want to upgrade the internal storage, add an SSD to another slot or replace the old one with the new one.
u003cbru003eHow long will an Acer Swift 3 battery last?
According to Laptop Mag's battery test results, the Swift 3 has an average battery life of about 7 hours and 45 minutes. It is shorter than some other laptops we've tested, but it should be enough for most people who don't need their laptops all day.
u003cbru003eIs AMD Ryzen 5 2500U a good Processor?
AMD Ryzen 5 2500U is a great processor. It is fast, power efficient, and has everything you need for casual gaming and professional use. AMD Ryzen 7 2700U is a great processor for those looking for better performance than AMD Ryzen 5 2500U.
Conclusion
The Acer Swift 3 SF315-41 is a simple laptop that is great for everyday use. AMD Ryzen 5 processor offers more than enough power to run the laptop's installed Windows 10 Home while multitasking.
Also, 8GB of RAM provides ample room to run multiple programs. It has plenty of storage space with the 256GB Solid State Drive, which offers quick access to your files, games, apps, and more.
It offers great performance, excellent battery life, and a good display for its price range.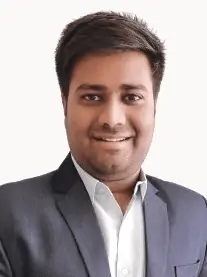 Mohit Patel (Founder & CEO)
Mohit Patel is a part-time blogger and CEO at NeutralX Corp (WiseCatcher's Parent Company). He is also an M&A Intermediary and the CEO of InstaFlip. He worked with thousands of business owners who own Content Sites, e-Commerce Businesses, SaaS Businesses, Marketplace, and Advertising networks. Mohit knows precisely what kind of content readers are looking for before making any buying decision whether it is a SaaS tool, a physical product, or a product comparison.