Workforce Software Monday Review – Features, Pricing, Pros & Cons (2023)
WiseCatcher is supported by its readers and we earn a commission if you buy through our affiliate links at no extra cost. Read the full affiliate disclosure in our privacy policy.
WiseCatcher is supported by its readers. You can find full affiliate disclosure in our privacy policy.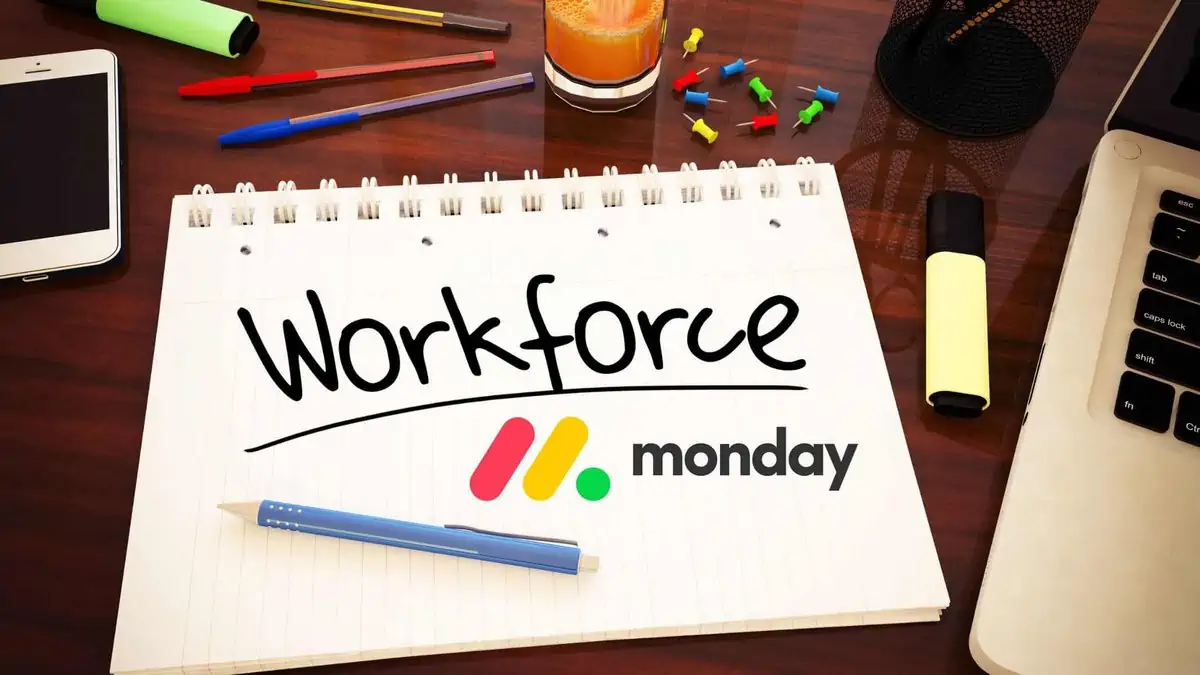 If you are in sales & marketing or even looking to get into sales, workforce management, or project management, you should use a customer relationship management (CRM) system.
Monday.com is a reliable and efficient CRM that helps users organize their workforce. Monday.com is a great CRM that allows you to manage your business efficiently and eliminates chaos.
But how good is it, and how does it compare to other CRM software on the market? Let's find out by reviewing the pros and cons of this application.
In this detailed review, we will look at all the Monday CRM products, features of Monday, as well as membership plans.
Before moving forward, let's look at an overview of workforce software Monday.
What is Workforce Software Monday?
Monday.com is a cloud-based workforce management software that allows you to manage schedules quickly and tasks and collaborate with coworkers.
Monday CRM software helps teams efficiently manage their work. This tool is designed with collaboration at its heart, which makes it easy for users to share their tasks and track the progress of projects.
Monday.com was founded in 2012 by entrepreneurs Roy Mann, Eran Kampf, and Eran Zinman, who wanted to solve their problems when managing their teams' tasks and projects.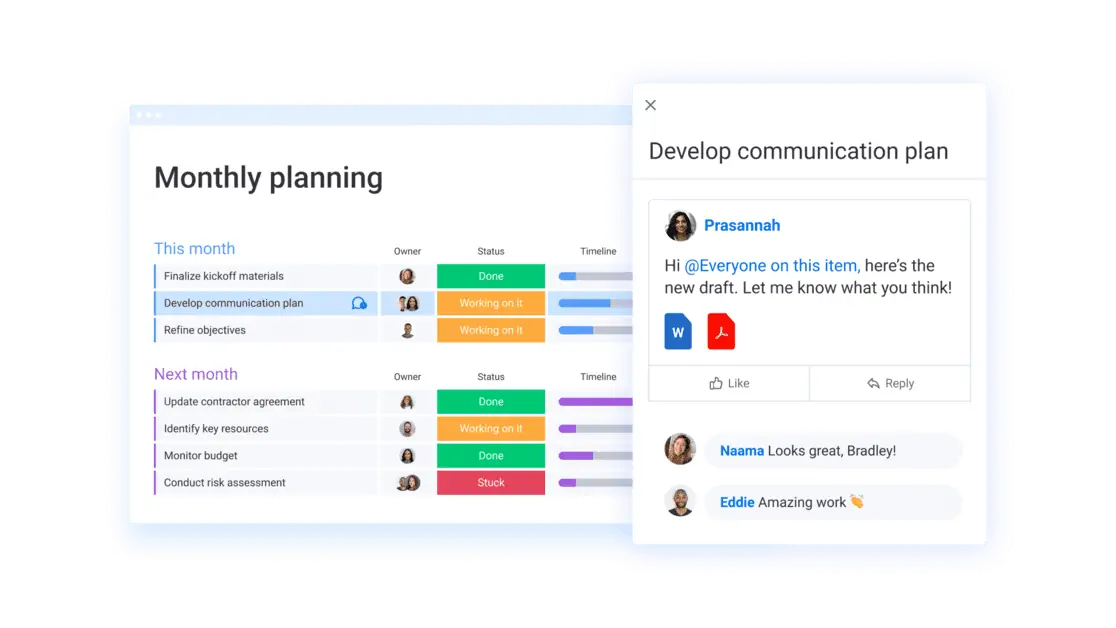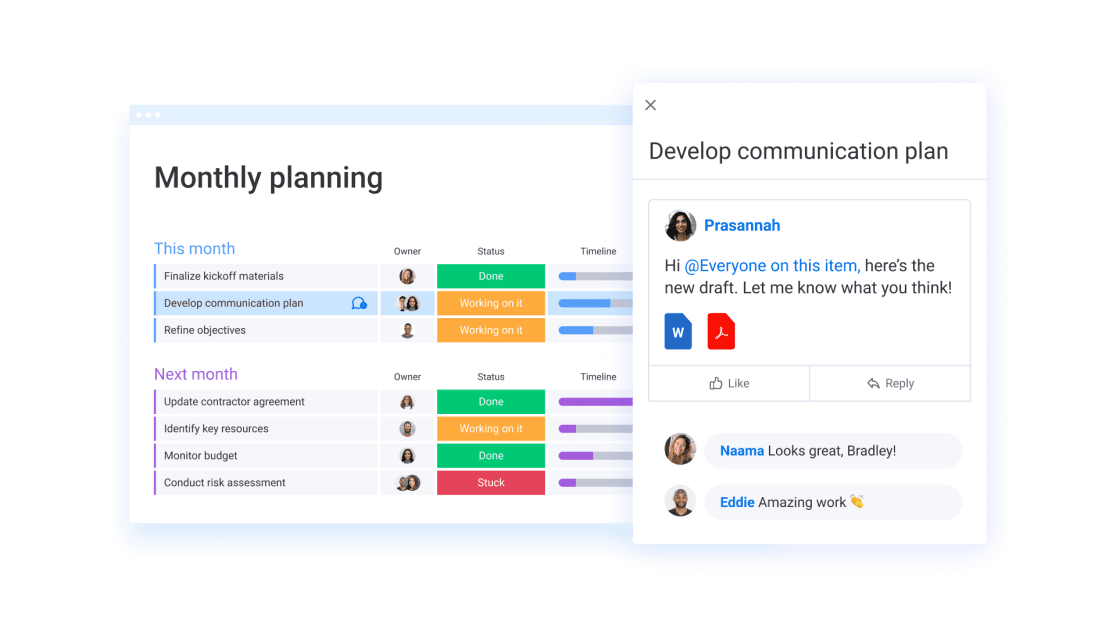 Over 152K+ customers are using Monday.com CRM, with 84% being happy customers across 195 countries worldwide, to manage their projects more efficiently.
Monday is a package for workforce management and time tracking. It includes staffing optimization, reporting, workflows, and scheduling.
Monday CRM is beneficial for both small and large companies. The largest companies that use this software include HubSpot, Coca-Cola, and Canva.
Monday.com Workforce Products
The Monday Workforce products are designed for businesses that must manage all aspects of their business, including sales, marketing, and development.
The platform can help you track leads, manage projects and organize your employees' day-to-day tasks. Let's look at all the products offered by this workforce software Monday one by one.
1. Monday work management
Monday Work Management allows you to manage complex workflows, processes, and tasks at a scale.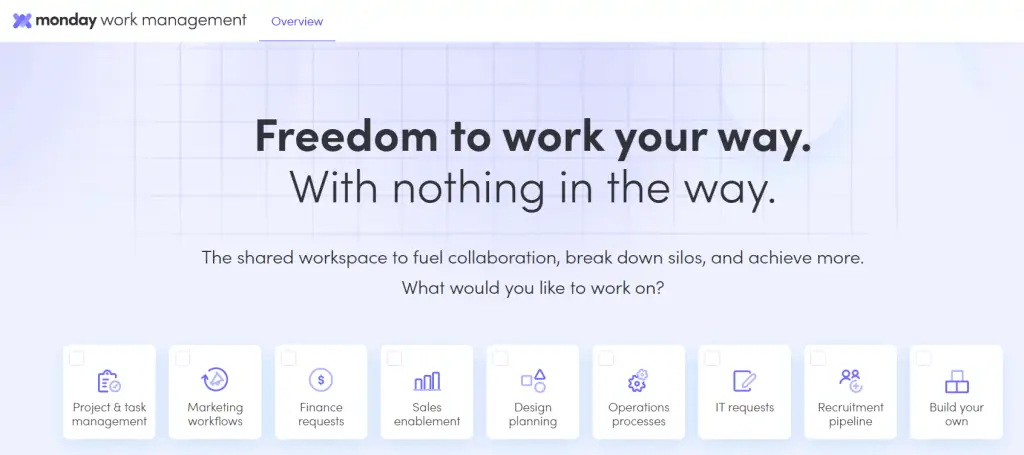 The platform helps you to get more out of your team members by allowing them to manage their own time and tasks. Some of the fantastic features of work management are:
2. Monday sales CRM
Monday Sales CRM is the leading customer relationship management system for sales teams.


Monday sales CRM allows you to customize your CRM to work for you. You can edit deal stages, add as many columns as you'd like, manage multiple pipelines at once, and more.
Some of the fantastic features of Monday sales CRM are:
3. Monday marketer
Monday marketer is making marketing and creative management made simple.
Monday marketer is a full-service marketing platform that helps you to manage your marketing and creative process. It gives you the power to create, collaborate, and analyze your marketing campaigns from one place.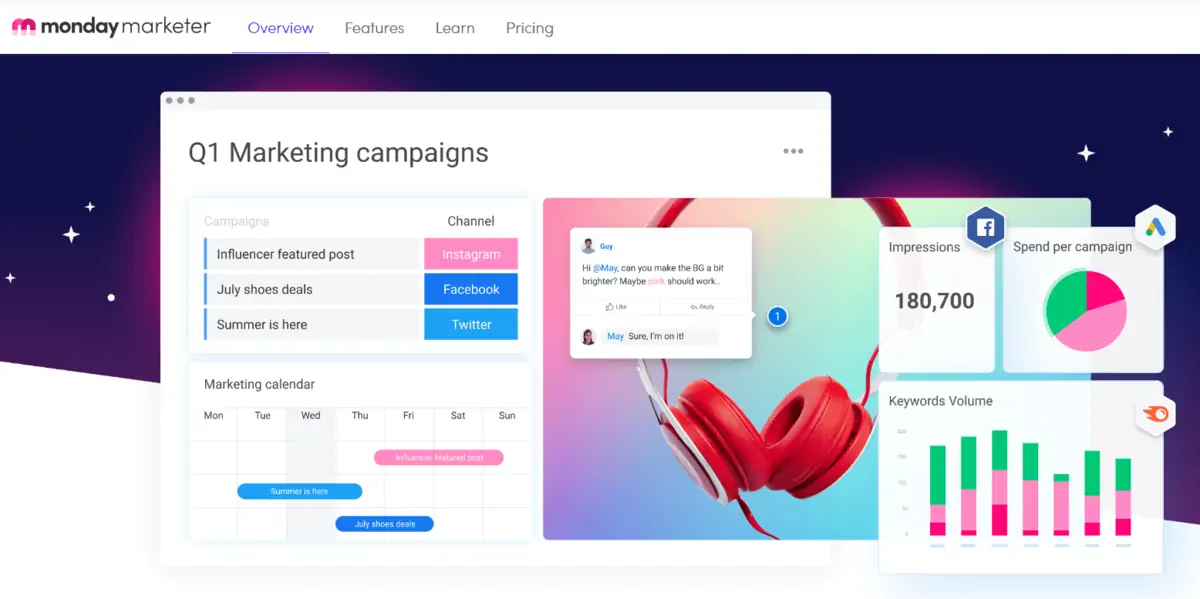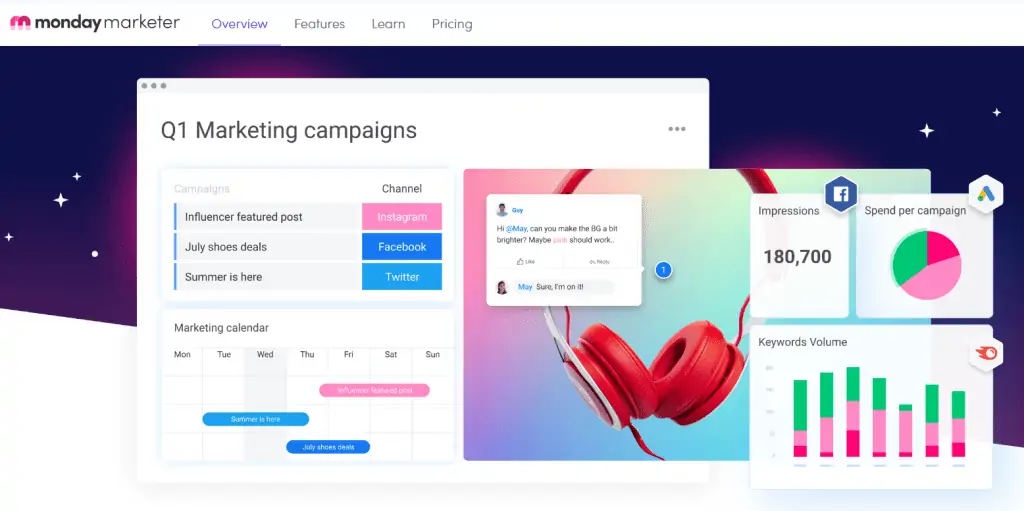 Create a roadmap for your entire year, including goals and strategies. You can also create a separate plan for each quarter if needed.
Some of the fantastic features of the Monday marketer are:
4. Monday Projects
Monday projects is a cloud-based project management software that helps teams plan, track, and manage projects and tasks.
It has an intuitive interface, making it easy for both beginners and experienced project managers.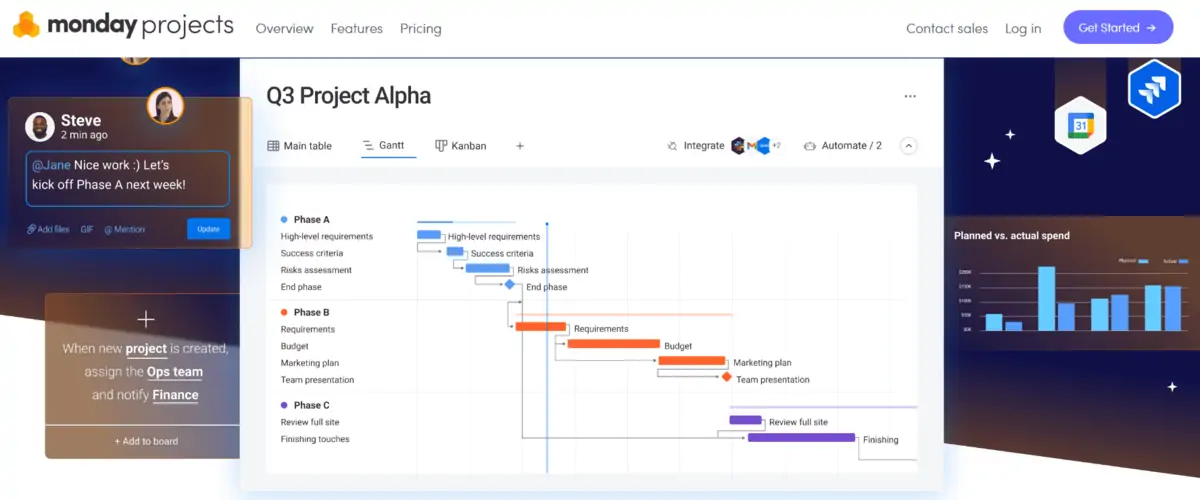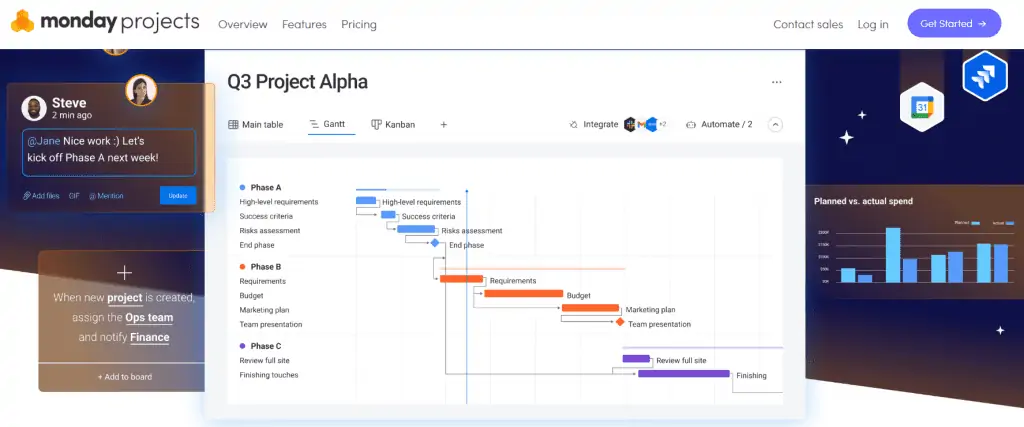 Monday projects offer some unique features that make it a great tool for managing projects:
5. Monday dev
Monday dev is Product development software to sprint through any development process. There are many different stages, each with its challenges and solutions.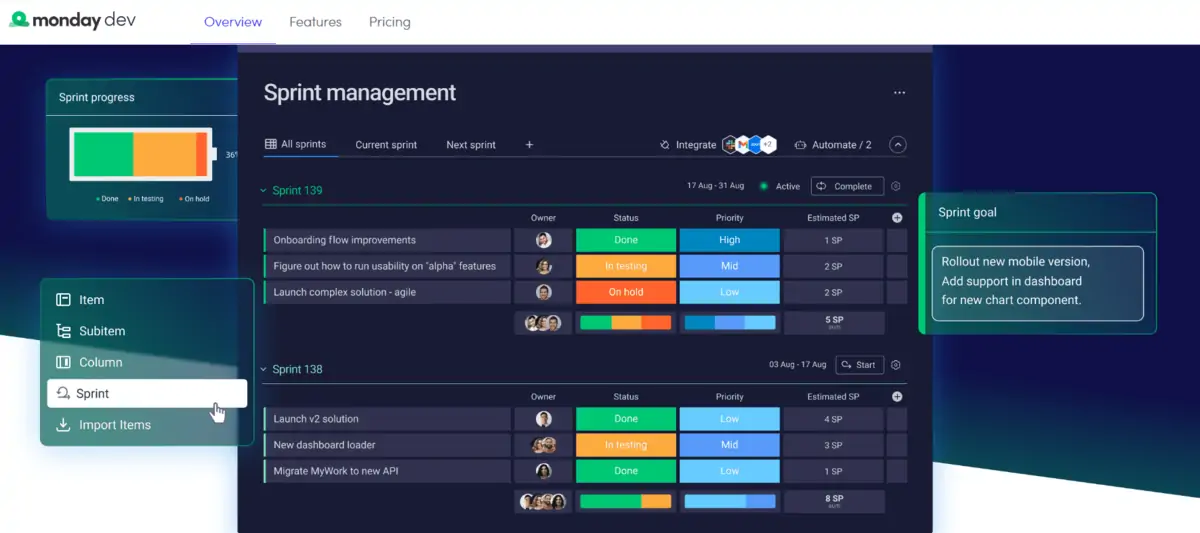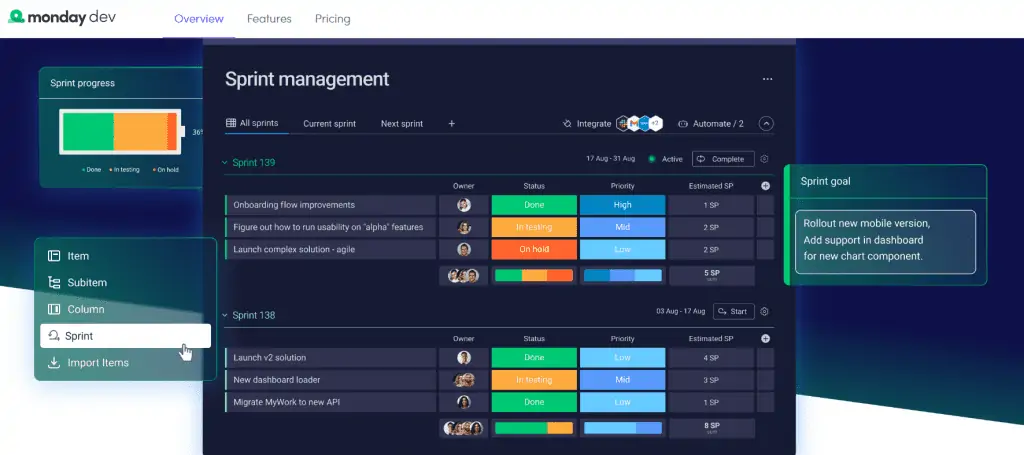 The right software can help you streamline this process, saving time and money and helping you reach your goals faster.
Is Monday CRM Good?
Monday CRM is good software for managing your contacts, leads, and sales. It helps you automate your marketing activities, schedule emails, and follow-ups, and track your progress.
Monday.com is designed for small businesses that want to increase their sales with the help of automation. It's also perfect for freelancers and consultants who want to automate their workflows.
If you're looking for a CRM to help you grow your business and increase sales, then Monday CRM might be a good fit.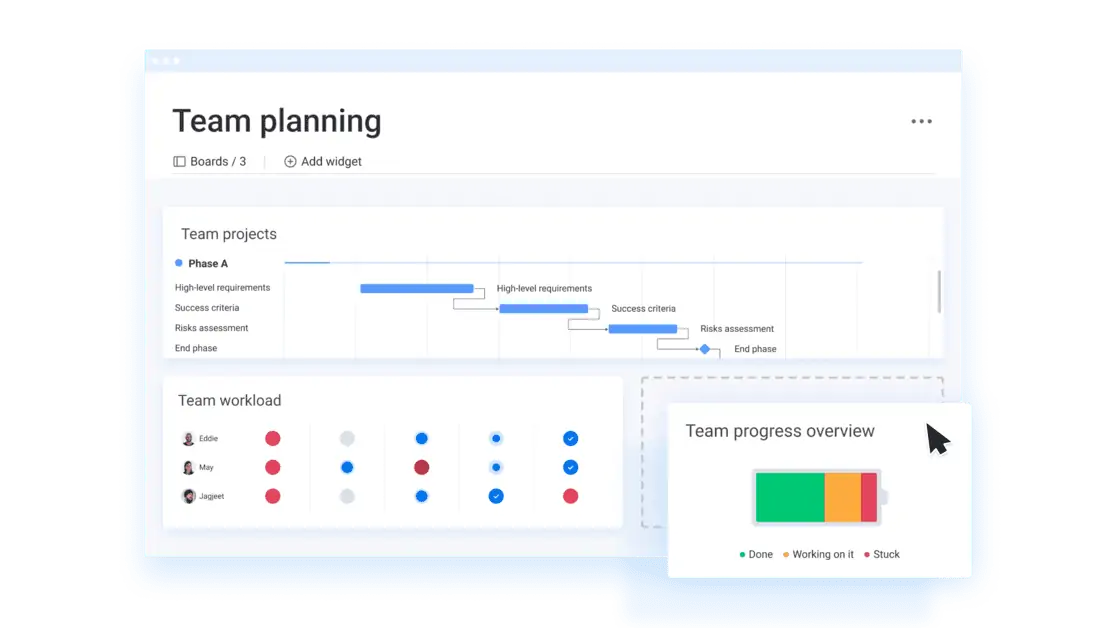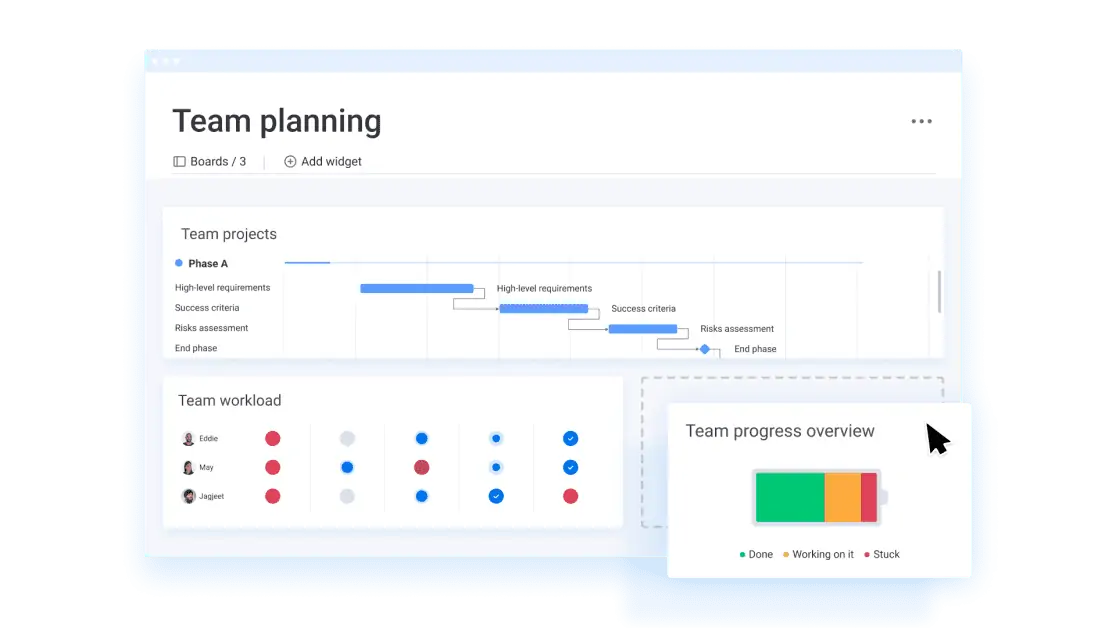 It synchronizes data from your company's existing clock card system and automatically transfers it into Monday.
By using the Monday mobile app or web portal, employees can clock in and out of shifts, submit timesheets and make edits without having to log in separately to their corporate HR system.
Disclosure: WiseCatcher.com is a participant Monday.com Affiliate Program. You can read our affiliate disclosure in our privacy policy.
This personalized dashboard helps them quickly access essential tools like the schedule board, comps lists, and report cards—so you don't have to explain yourself over email or Slack again!
Best Features of Workplace software Monday.com
Here are some of the features of Workplace software Monday:
Monday.com CRM vs Salesforce
Monday.com CRM and Salesforce are the market's most popular business management tools. They offer robust features and functionality to help you manage your team, customers, and sales pipeline.
Monday.com CRM is simpler and easier to use than Salesforce, but it only includes a few advanced features that more advanced users may need.
On the other hand, Salesforce offers more customization options for users who want to add their flair or customize their workflow to fit their specific needs.
Monday Pricing
Monday.com has four levels of Membership: Basic, Standard, Pro, and Enterprise Plan.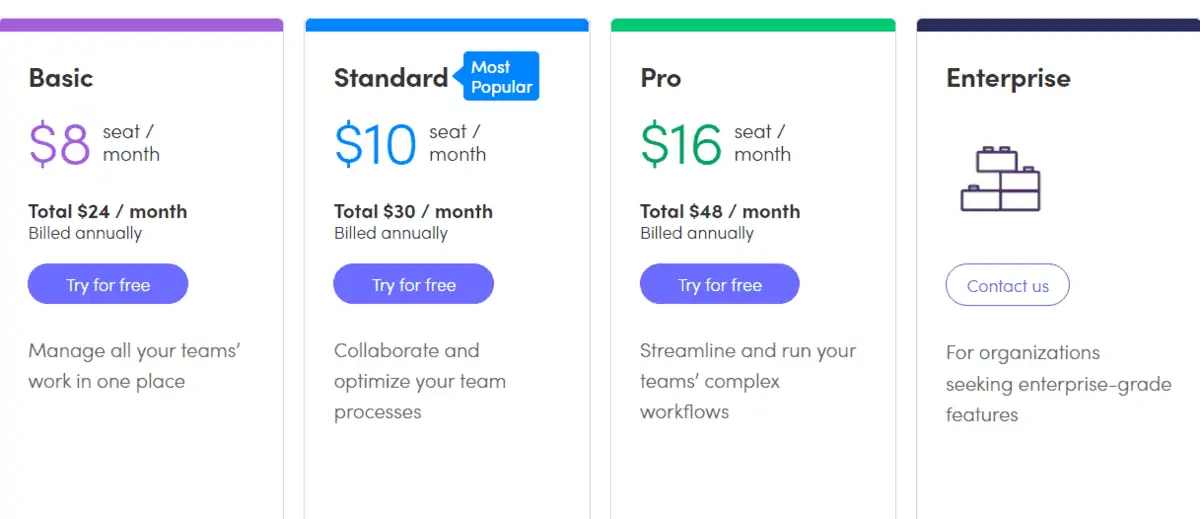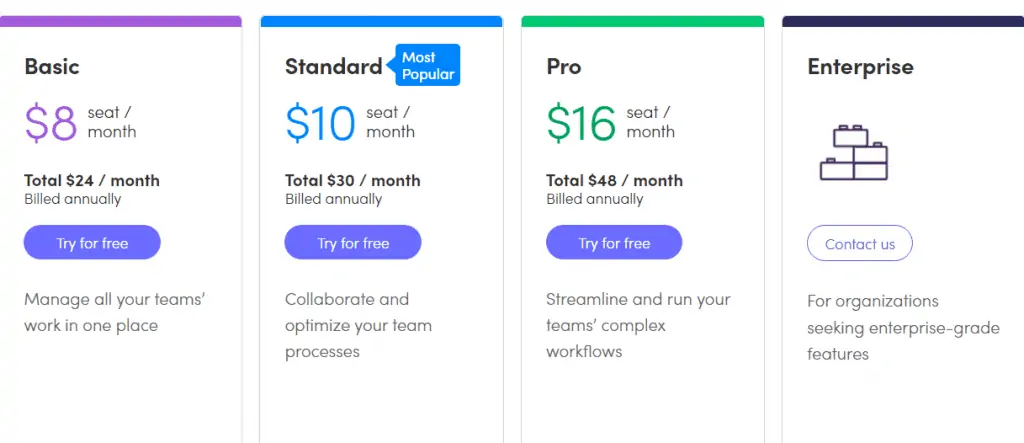 Prices vary based on how many users accounts you need. The cheapest memberships only allow you to add two users, while top-end options support more than unlimited accounts.
Basic Membership
Basic memberships start at $8 per month per seat, which costs you around $24 per month due to the minimum requirement of 3 seats and includes an individual plan, plus: Unlimited free viewers, Unlimited items, 5 GB file storage, prioritized customer support, and you can create a dashboard based on one board.
Standard Membership
The standard option costs $10 per month per seat, which costs you around $30 per month due to the minimum requirement of 3 seats and includes a Basic plan, plus: Timeline & Gantt views, Calendar view, Guest access, Automations (250 actions per month), Integrations (250 actions per month)and helps you create a dashboard that combines up to 5 boards.
Pro Membership
The pro level is priced at $16 per month per seat, which costs you around $48 per month due to the minimum requirement of 3 seats and includes a pro plan, plus: Private boards and docs, Chart view, Time tracking, Formula column, Dependency column, Automations (25,000 actions per month), Integrations (25,000 actions per month) and you can create a dashboard that combines up to 10 boards.
Enterprise Membership
Enterprise accounts are designed for large companies and organizations.
Enterprise is Monday.com's flagship package. Unfortunately, no public pricing information is available for this membership type, as Enterprise installations are customized to each customer's unique needs.
Pros & Cons of Monday CRM
Vision and Goals of Monday
According to Monday, their goal was never to create a good product they could sell; they always wanted to create a great product that sells itself.
A product that people can try for free and then decide for themselves whether they want to buy or not.
They've got a forever free plan for up to two seats which is good if you want to see the potential of this SaaS. They aim to take everything you're already doing at work—sending emails, sitting in meetings, managing spreadsheets—and make it even better and easier if you do it on monday.com.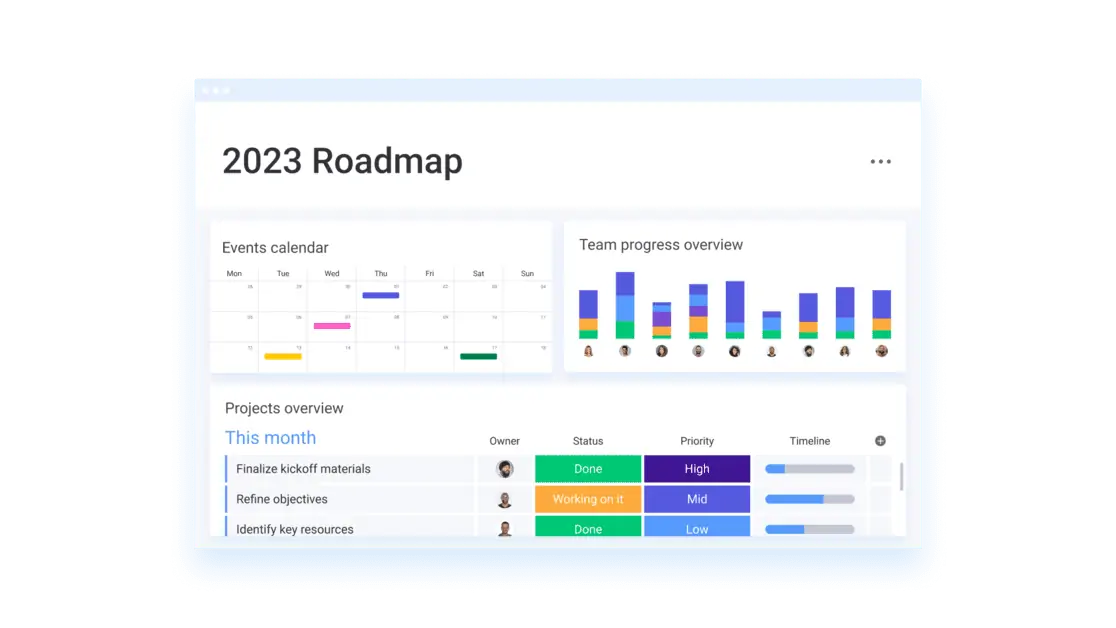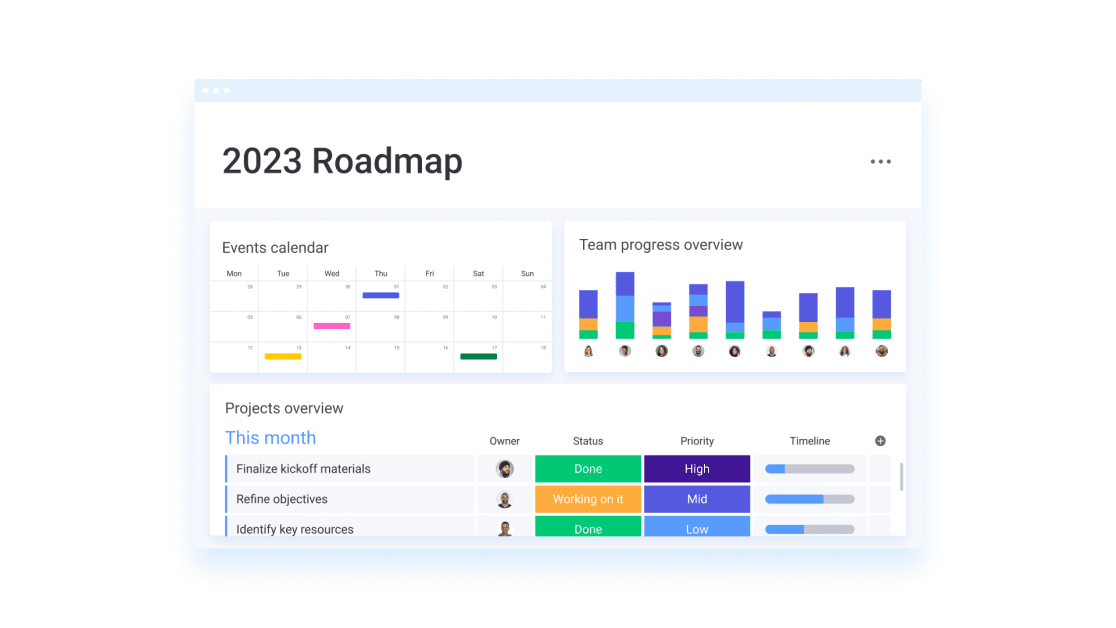 Frequently Asked Questions (FAQs)
Below are a few FAQs associated with Monday workforce management software.
Is workforce software Monday worth it?
Since its launch in 2012, Monday.com has quickly become one of the most popular project management software solutions. The company behind this software is based in Israel and has over 1200+ employees working on improving their products daily.

Is Monday.com a SaaS?
Monday.com is a SaaS product. It runs in the cloud and is paid on a subscription basis.

Is Monday.com a good CRM Software?
Yes, Monday.com is a good CRM software. It's easy to use and intuitive, making it an excellent choice for small or medium-sized businesses. The interface is clean and simple, with features that are easy to find and use.

What are the Best CRM Systems?
Some of the best CRM systems for small businesses are Monday.com, Salesforce CRM, HubSpot, NetSuite, Zoho CRM, Pipedrive, and Freshsales.
Conclusion
Monday is an effective workforce management system that can help companies with their business needs. The software has many features that allow you to schedule employees' days off to track their productivity.
If you're searching for a simple, affordable, and easy-to-use CRM for business, then you should go with Monday.com, and trust me, you won't regret it.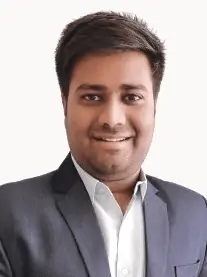 Mohit Patel (Founder & CEO)
Mohit Patel is a part-time blogger and CEO at NeutralX Corp (WiseCatcher's Parent Company). He is also an M&A Intermediary and the CEO of InstaFlip. He worked with thousands of business owners who own Content Sites, e-Commerce Businesses, SaaS Businesses, Marketplace, and Advertising networks. Mohit knows precisely what kind of content readers are looking for before making any buying decision whether it is a SaaS tool, a physical product, or a product comparison.