iPhone 15 Pro price, feature, and everything you need to know!
WiseCatcher is supported by its readers and we earn a commission if you buy through our affiliate links at no extra cost. Read the full affiliate disclosure in our privacy policy.
WiseCatcher is supported by its readers. You can find full affiliate disclosure in our privacy policy.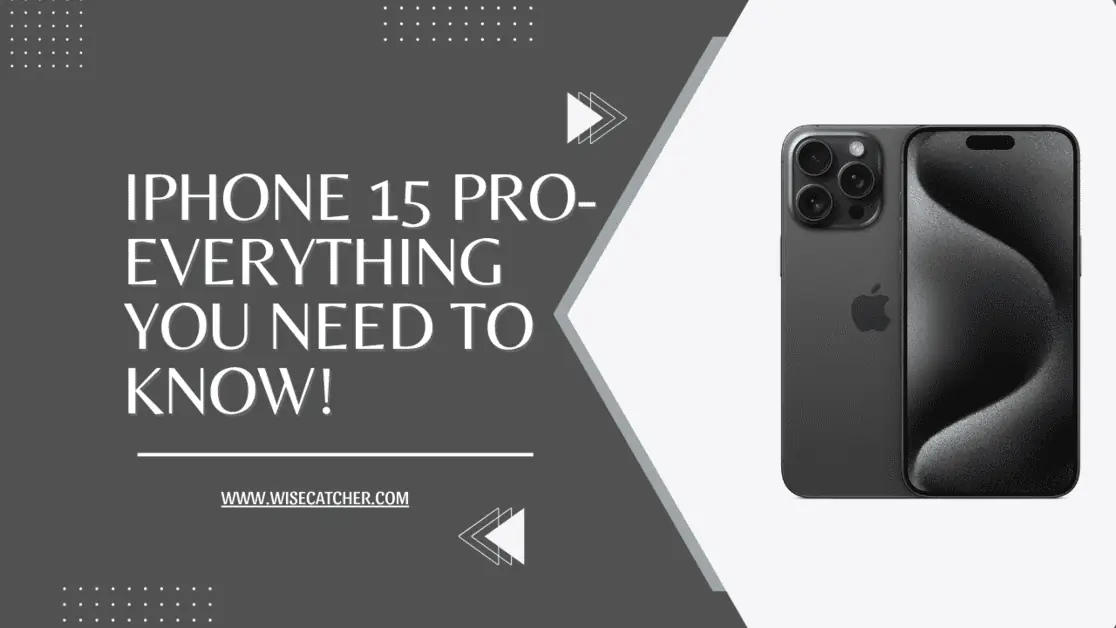 After months of rumors, guesses, speculation and wait the most awaited phones of the year are here. Apple launched the new iPhone 15 series on 12th September 2023. The launch event has been the most exciting and fun.
The iPhone 15 Pro, comes with a 6.1-inch display, titanium body, USB-C port, brand-new Action button, and Apple's lightning-fast A17 Pro processor. These features make this phone one of the best phones available in 2023.
If you are wondering about the release date, price, design, or the various specs and features of Apple's lightest new iPhone 15 Pro then you are at the right place, so without further delay let's get started.
Here is the iPhone 15 Pro and iPhone 15 Pro Max in a nutshell.
| | | |
| --- | --- | --- |
| Specification | iPhone 15 Pro | iPhone 15 Pro Max |
| Dimension | 146.6 mm x 70.6 mm x 8.25 mm | 159.9 mm x 76.7 mm x 8.25 mm |
| Rear Camera | 48MP wide, 12MP ultra-wide, 12MP telephoto with 3x optical zoom | 48MP wide, 12MP ultra-wide, 12MP telephoto with 5x optical zoom |
| Front Camera | 12MP | 12MP |
| Chipset | A17 Pro | A17 Pro |
| Display | 6.1 inch OLED | 6.7 inch OLED |
| Weight | 187g | 221g |
| Resolution | 2556 x 1179 pixels | 2796 x 1290 pixels |
| Storage | 128GB, 256GB, 512GB, 1TB | 256GB, 512GB, 1TB |
| Price | Starts from $999 | Starts from $1099 |
iPhone 15 Pro Design
Since the release of the iPhone 12 in 2020, Apple has decided to offer its iPhone 15 series the most significant design makeover. In particular, the curved sides of the iPhone 11 have replaced the straight sides of the iPhone 12 Pro, iPhone 13 Pro, and iPhone 14 Pro on both the iPhone 15 Pro and iPhone 15 Pro Max. These curved sides are composed of aerospace-grade titanium.
Apple claims that by abandoning stainless steel, the iPhone 15 Pro is stronger, lighter, and has even narrower bezels than its predecessor (the iPhone 15 Pro weighs 191g, compared to 206g for the iPhone 14 Pro).
The iPhone 15 Pro retains its Dynamic Island and brushed glass rear panel from last year's model, and it is once more covered with Apple's Ceramic Shield, a clear material with ceramic crystals for added screen protection. The glass rear plate of the phone is now also detachable, making the iPhone 15 Pro easier to repair.
Here are the available color options for iPhone 15 Pro and iPhone 15 Pro Max:
Black titanium
Blue titanium
White titanium
Natural titanium
iPhone 15 Pro Performance
The A17 Pro, Apple's most recent chip, which the firm calls "a monster win for gaming" and "the biggest redesign in the history of Apple GPUs," powers the iPhone 15 Pro.
Apple's newest chipset the A17 Pro, which was created using a 3nm manufacturing technique and has more transistors than the A16 Bionic it replaced, is almost certainly the most potent one currently available for mobile devices.
Early benchmark results for the iPhone 15 Pro show it outpacing every Android phone and the iPhone 14 Pro. The listing also states 8GB of RAM, which would be 2GB more than its predecessor had.
Every iPhone 15 also has an improved Ultra Wideband (UWB) processor to accommodate the Apple Vision Pro headset's capability. In the iPhone 15 Pro, Apple's U1 processor, which is currently manufactured using a 16nm process, has been upgraded with newer silicon. As a result, location-based capabilities like Find My, Precision Finding, and AirDrop will work more efficiently on the iPhone 15 Pro.
A copy of iOS 17 is also pre-installed on the iPhone 15 Pro as the standard.
iPhone 15 Pro Battery
I do not understand Apple's obsession with surprises but yes they did not reveal the battery size and any of the phones in the launch event. But what they did mention is that the new iPhone has an excellent battery life that will last up to 23 hours of video playback.
Well while talking about the battery I feel we must talk about how the iPhone has finally broken its ties with the lightning cable and finally introduced the new iPhone series with a USB-C port. It also supports wireless charging.
iPhone 15 Pro Display
The superb 6.1-inch Super XDR OLED display from the iPhone 14 Pro continues to exist and Apple's ProMotion technology—which adjusts the refresh rate between 10Hz and 120Hz depending on the material displayed—also makes a comeback with the new iPhone 15 Pro.
The Dynamic Island digital cutout is back, as mentioned, and now also appears on the iPhone 15 and iPhone 15 Plus. Additionally, the iPhone 15 Pro has virtually no bezels, which is encouraging for Apple's ultimate goal of making a fully bezel-less iPhone in the not-too-distant future.
In other words, we gotta give it to Apple as this is without a doubt among the greatest phone displays currently available.
iPhone 15 Pro Camera
The triple-sensor configuration of the iPhone 14 Pro, which was undoubtedly great, remains unchanged in the brand new iPhone 15 Pro and Pro Max. The phone features three lenses: a 12MP ultra-wide (13mm, f/2.2), a 12MP telephoto (77mm, f/2.8), and a 48MP wide (24mm, f/1.78).
Although the phone's 48MP main camera has also been updated, the main improvement here is the addition of extra focal lengths, which Apple claims "it's like having seven pro lenses in your pocket." This allows you to take ultra-high-resolution photographs with even more clarity and color.
On the iPhone 15 Pro, Portrait mode has also been updated; you no longer have to manually switch to it. If your subject is a person, dog, or cat, the phone automatically gathers depth information, allowing you to select whether to see your picture right away as a portrait, later in the Photos app, or with a creative blur effect.
The front of the iPhone 15 Pro features the same 12MP selfie camera as the model before it.
iPhone 15 Pro and 15 Pro Max Price
I understand that you might have already set your mind to buy the latest iPhone and are here to see when it will be available for pre-booking, or in the store and what is the pricing of these new phones.
Iphone 15 series has been launched on 12'th September 2023 and it will be available for pre order form friday 15'th September and you can experience the brand new Apple iPhone series 15 in the store from 22 September.
iPhone 15 Pro will start from $999 for the base model of 128 GB. iPhone 15 Pro Max will start from $1099 for the base model of 256GB. The price will eventually increase with the storage capacity you opt for.
If you are an Android user and want to switch to iOS, here's your chance. If you are an Apple user already, then consider it an optional upgrade. iPhone 15 Pro's price, features, battery life, and performance make this phone a great option for people who have a busy life and looking for a phone that is a complete powerhouse. So do let me know what are your thoughts about Apple's new launch.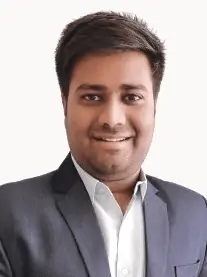 Mohit Patel (Founder & CEO)
Mohit Patel is a part-time blogger and CEO at NeutralX Corp (WiseCatcher's Parent Company). He is also an M&A Intermediary and the CEO of InstaFlip. He worked with thousands of business owners who own Content Sites, e-Commerce Businesses, SaaS Businesses, Marketplace, and Advertising networks. Mohit knows precisely what kind of content readers are looking for before making any buying decision whether it is a SaaS tool, a physical product, or a product comparison.